Working with so many injured pitchers over my career, one common theme that I often hear when players describe how they got hurt was that they did not properly warm up and prepare themselves to throw. I'm not sure if this is always the true cause of the players' injuries, however, I hear it often enough that it has to have some significance.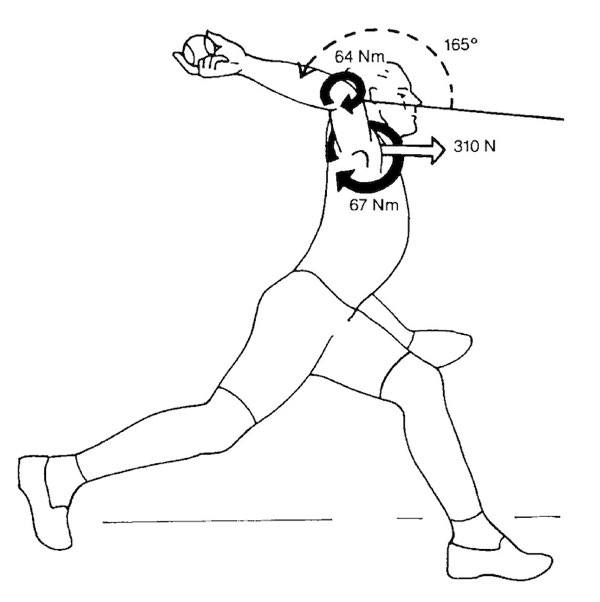 This seems to make sense, though. Throwing is very dynamic and aggressive on the body. In fact, it is the fastest known motion that the human body performs! If it could, your shoulder would rotate a full 360 degrees around up to 27 times in 1 second! That is unbelievable.
I often say injury is just a simple physics equation. Force = mass x acceleration. The faster your body moves and the harder you throw, the more forceful it is on your body.
Because of this, you can see how just grabbing a baseball and starting to throw can be stressful on the body. Throwing is so dynamic and forceful that you want to do your best to put yourself in a position to succeed before you start throwing. This will help foster a long and healthy career.
To prepare before your throwing program, you really need to do two things: 1) Prepare your body and 2) Prepare your throwing. In this two part article I will discuss both.
How to Prepare Before Your Throwing Program – Part 1 – Prepare Your Body
It's funny how common sense tells us to prepare our body for common athletic activities, like running and jumping, yet people often neglect throwing. The first three steps to prepare before your throwing program involve getting your body ready.
Prepare to Throw Step 1 – Get Loose
The first step in preparing your body to throw is to get loose and work on your mobility. We've studied 1000's of baseball pitchers and have found a few things when it comes to throwing a baseball:
Throwing a baseball causes your muscles to tighten and you loose mobility of your shoulder and elbow
Not addressing this becomes cumulative and you eventually get a little tighter and tighter over the course of a season
Working to maintain your motion is effective and can prevent lose of motion
One of the phrases I use a lot with my athletes is "I want you to be you BEFORE you pick up a ball." What that means is, if you just threw 100 pitches yesterday in a game, I know you are tight. If you ignore it and pick up and ball and try to throw, you are setting yourself up for trauma. Throwing will loosen you up (before you tighten up again), but it's a much more aggressive way to get your mobility back.
Rather, perform some self-myofascial release by using a foam roller, massage stick, and baseball ball. Here are the ones I use the most on Amazon and because the foam roller is hollow, you can put your other tools inside and all fit nicely in your gear bag:
You should focus on the entire body with particular emphasis on your lat, back of the shoulder, rotator cuff, pec, biceps, and forearm. You should avoid the front of your shoulder. There really aren't a lot of muscles there and your just smashing your rotator cuff and biceps tendons.
Hit each spot for 30-60 seconds and hold on any really tender spots for 10 seconds.
Notice how I intentionally didn't say to "stretch" your arm or perform a "sleeper stretch" (here is why you shouldn't perform the sleeper stretch). Most baseball pitchers are too loose to stretch effectively and they end up torquing themselves too much and making things worse. There is a difference between muscles and joints, it's possible to have tight muscles and loose joints.
There is one shoulder stretch that is effective on the muscles and not too aggressive on the joint, the cross body stretch I call the Genie Stretch. This can be enhanced even more by using a trigger point ball in the posterior shoulder muscles. You can and should stretch your forearm, you can't really hurt yourself here.
Prepare to Throw Step 2 – Warm-Up Your Muscles
Now that you have worked on restoring mobility back to your baseline BEFORE you throw, it is time to get your muscles ready to throw. In the strength and conditioning world, we refer to this as "activating" the muscles.
You want to hit all the muscles and movement patterns that are need to accelerate and decelerate your arm. These essentially include the scapula and rotator cuff muscles. By turning on these muscles, the body will be better prepared for the upcoming activities and throwing.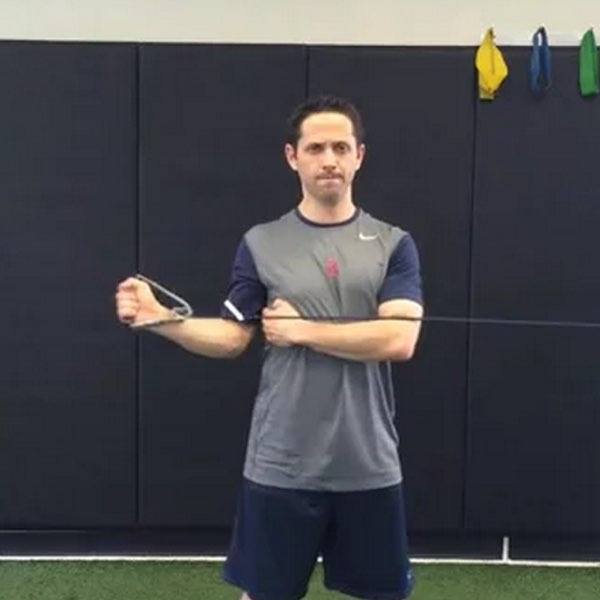 The simplest way to do this is with resistance tubing. We use a combination of tools at Champion, but tubing is quick, easy, and portable.
You do need to be careful of your volume of exercises. These warm-ups are designed to prepare the muscle, not fatigue them, and are not a substitute for strengthening the muscles. That is a completely different program to be performed at a different time. We use tubing to simply activate the muscles with low volume sets and reps of 2×10
I use Theraband tubing with handles. They are the best and far superior to the cheap bands you can buy at the local stores, which have odd resistance and can lose resistance over time. They are even ~$15 on Amazon. You can attach the band to a fence or post, or take turns holding with a partner.
I like the tubing with handles and want you to have to grip the tubing, rather that velcro strap them around your wrist. Grip the tubing helps warm up your grip and forearm muscles and also has a reflexive stimulus to your rotator cuff to engage.
Here is a link to Amazon.com to purchase the Theraband Exercise Tubing I use in the video at the end of this article. I recommend the green band for Little League age, the blue band for middle school and early high school age, and the black band for the older or experienced pitcher:
Prepare to Throw Step 3 – Getting Moving
The third step to prepare to throw now involves dynamic movements. You can see that we are building on a logical progression here: restore mobility, activate the muscles, and perform dynamic mobility exercises for movement prep.
Throwing is a very dynamic activity, obviously, that needs elasticity of the muscles. Stretching and mobility work alone will not turn on the elastic components of your muscles. Similar to my comments above on stretching, I don't want a baseball being the first elastic stimulus your body faces. I want to slowly work up to that so it is less traumatic and aggressive of a jump in stress on the tissue.
We want to dynamically move the joints and have the muscles produce quick contractions,. This helps prepare the muscle for by improving mobility and activation.
At Champion, our athletes have a whole portion of their program dedicated to these three steps and assuring that the entire body is prepared to throw, however, I demonstrate a simple arm version of this in the video below. Perform this and you'll be head and shoulders above most other athletes.
For pitchers, we use movement prep exercises that mobilize and activate the muscles groups needed to throw, like the chest, posterior shoulder, and rotator cuff. It doesn't take a lot of repetitions to prepare the body.
My Warmup Program Before Throwing
Perform this 3-minute arm warm up program prior to starting your throwing program for the day. This is our bare minimum program that we teach our athletes that are new to the concepts of preparing their body before throwing. As you can see, you don't need dozens of exercises or many sets and reps, even just performing this quick warm-up will put you in a more advantageous position to throw than most other athletes.
It is quick and easy and can be performed on the field before practice. Look out into the bullpen next time you are at a MLB game and you'll see many players performing this during the game.
I've adjusted the order of how I prepare the body a little bit since the filming of this video, so it is a little out of order per the above information, but serves as a great example of a quick and easy 3-minute warm up to be performed after your self-myofascial release and before throwing.
In part 2, I will discuss the next three steps involved in preparing to throw and how I actually start off my throwing programs.
Want to Learn More?
I also have a free 45-minute video on How Baseball Players Can Safely Enhance Performance While Reducing Injuries. Enter your name and email below and I will send you access to the video as well as a handout of the above arm care warm-up exercises that you can take to the field: